Summer Activities
Horseback riding, hiking, fishing, pack trips and photography are some of the many summer time activities Paintrock has to offer. Our rustic lodge with modern amenities, the breath taking beauty of the Big Horns and comfortable daytime temperatures averaging in the mid 70's for July and August make Paintrock the perfect summer vacation destination. Our laid back atmosphere provides guests with a "home away from home" feeling allowing them to settle in and make the most of their vacation.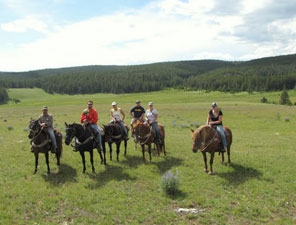 Horseback Riding
What better way to see the beauty of the Big Horn Mountains than on the back of a gentle trail horse. We offer rides daily for our guests.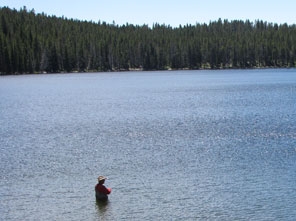 Fishing
From the middle of June to the end of September the lakes and streams of the Big Horns and Cloud Peak Wilderness Area provide opportunities to tangle with cutthroat, rainbow, brown, brook and golden trout. Fish from the shore or a boat at four lakes near the lodge or cast a fly to a hungry trout in one of the many streams flowing out of the Big Horn Mountains.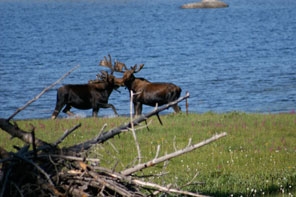 Wildlife Viewing
Elk, moose, deer, antelope, coyotes, pikas, bald and golden eagles, sage grouse, and many many more make the Big Horn Mountains home.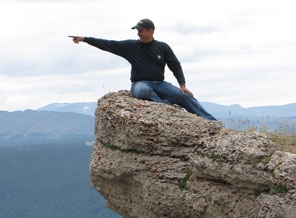 Photography
Around Paintrock Lodge in the summer, fall and winter take pictures of a wide variety of wildlife along with spectacular scenery. Flowers, mountain streams, snow capped mountains and bright green parks provide a backdrop that is next to none for those who are interested in photography.